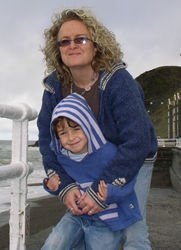 The people behind the product.

Product designer Becky has wanted to sculpt since the age of six, and is now realising her dream.
Trained as a Sports Scientist, her life-long self-taught hobby is now becoming a reallity.
Becky is married to Michael, whom she affectionately calls her 'oak',
as he is passionate about finding pieces of furniture inside scrumptious
bits of wood.
This combination of clay lover and wood lover produced Milo,
their adorable, crazy son.
They are passionate about Milo, clay, wood, creating art, style, design, interiors, pasta, chocolate and Italy!
This website, which will slowly evolve to show everything that Becky and Michael love to make, comes from the heart. With love.